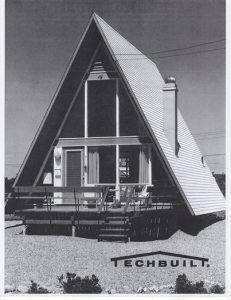 Prefabricated housing has its roots with the company that did the most to spread modern living across America with their iconic catalog – Sears and Roebuck. Beginning in 1908 and continuing until World War II, Sears, Roebuck and Co sold more than 70,000 homes through its mail-order Modern Homes program. Customers could choose from 447 different floor plans adapted from the popular architectural styles of the day. All the lumber and fittings for a Sears "kit house" would arrive in town on a rail car and then be assembled on site.
Following the war several architects latched on to the concept of pre-fabricated housing as a solution to providing an expanding American population with affordable housing. One of the most innovative was Milwaukee-born Carl Koch who was so successful that in the 1990s Progressive Architecture magazine dubbed him "The Grandfather of Prefab." Koch learned his trade at Harvard University in the 1930s at a time when the school was transitioning from the showy, classical influences of the Beaux Arts style to concepts championed by its new chairman of the Department of Architecture, Walter Gropius. Two decades earlier Gropius had founded the Bauhaus art school in Germany which became one of the building blocks of modern architecture.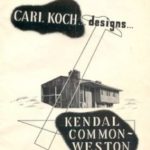 Koch pulled from the teachings of Gropius that good design accomplished its job without drawing attention to itself. Gropius disciples believed that houses could be raised inexpensively using industrialized construction methods with simple wall and window panels. Koch made his first experiments in pre-fabricated housing in the Boston suburbs in the 1940s and in 1953 developed the Techbuilt System. A Techbuilt house reduced all major building components to four-foot wide modules which were shipped in a box to the construction site by truck and assembled within a few days.
Eventually there would be twenty-two single-story and two-story models and Koch sold over 3,000 Techbuilt modern-style house packages in 32 states. In 1957 the Techbuilt House was honored by the American Institute of Architects as the "Best Development House." The following year Koch published a book about his saga with the Techbuilt House and modernist prefabricated designs called At Home With Tomorrow.
The Philadelphia area boasts a handful of legacy Techbuilt houses that are distinguished by a lack of ornamental detail and open floor plans with no load-bearing interior walls. From the outside Techbuilt houses can be recognized by large swaths of glass, wooden siding and low-pitched, A-frame roofs. The simplicity of the components made Techbuilt houses easy to modify and expand. Children of the suburbs, Techbuilt houses often found themselves erected in natural wooded settings. Two single-story Techbuilts that have been on the market recently were at 313 Barren Hill Road in Conshohocken and at 95 Ivywood Lane in Wayne.
Gropius and his modernistic followers had no use for "starchitects" and preached "anonymous architecture" but original Techbuilt houses have served as platforms for eye-catching contemporary remodeling projects. Such is the case with the Seidenberg House in Conshohocken where the mid-century kit house was expanded upward to mingle in the treetops (http://phillystylemag.com/living/articles/conshohocken-home-tree-house-style-design) in an award-winning design by architect Alan Metcalfe.
In the 1960s Carl Koch segued out of Techbuilt to Techcrete, a pre-stressed concrete component he used for large-scale public housing projects. Philadelphia has a remnant of this stage of Koch's career as well – tucked into a grove of pines by the south entrance to the Carson Valley School in Flourtown is a one-story Director's Residence built on Techcrete.