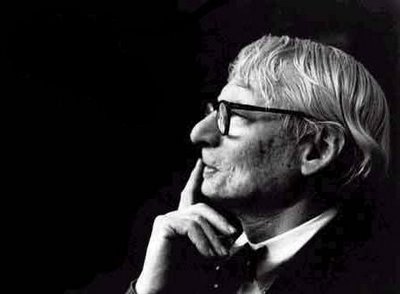 When Louis Kahn suffered a heart attack and died in 1974 The New York Times declared in its Page One obituary that he was "America's foremost living architect." Kahn built that estimable resume entirely from his base in Philadelphia, a city which his Estonian parents brought him ato s a young child in 1906. In 1912 young Itze-Leib Schmuilowsky became Louis Isadore Kahn and he sailed through his studies at Philadelphia's Central High School and the Public Industrial Art School. He received a degree in architecture from the University of Pennsylvania after working under master designer Paul Philippe Cret.
After graduation Kahn worked in several Philadelphia-based architecture shops, including Cret's. He was appointed chief of design for the buildings erected for the city's Sesquicentennial celebration in 1926. After several years traveling abroad, Kahn hung out his own shingle in 1935. Always a social progressive, much of Kahn's early work was public projects completed for the Philadelphia Housing Authority.
Kahn turned to teaching in 1947 at Yale University. He did not come to modernist architecture until after he was 50 years old – and a trip to study the classical structures of Greece and Egypt. Kahn saw in the ancient ruins a solidity of form and he applied their ageless principles to modern techniques. Kahn's vision for powerful but simple geometric shapes rendered in durable materials such as brick and concrete first manifested itself in the Yale Art Gallery in 1952.
Kahn's modernist fingerprints are on award-winning buildings across the globe: the Salk Institute on California cliffs overlooking the Pacific Ocean; the Phillips Exeter Academy Library in New Hampshire; the Kimball Art Museum in Texas; and the National Assembly Building in Dhaka, Bangladesh for starters. In Philadelphia, Kahn's design for the Richards Medical Research Laboratories at the University of Pennsylvania broke ground for modern architecture with his treatment of "served" and "servant" spaces. For Kahn, the "servant" spaces – the innards of a building with oft-concealed pipes and ducts – were as large a player in the esthetic essence of the project as the effort made to beautify the so-called public spaces.
As Kahn's fame flowed across the architectural world he returned to teach at the University of Pennsylvania where his thinking came to include reflections on the interplay of light and materials, the humanistic impact of architecture and the integration of landscape architecture into a building site. There were also nine modern houses built from Kahn plans – all within 30 miles of Philadelphia. Over 200 projects are archived in the Louis I. Kahn Collection at the University of Pennsylvania; the collection consists of 6,363 drawings and more than 100 models, including renditions of his residential work.